Tattoos are the ultimate in self expression. Different tattoo designs have different meanings.
1)
Tribal Tattoos
Symbolizes belonging. The Tribal designs were by far the most popular, coming in with approximately one third of requests. Today, tribal body art is an appealing fashion statement, that allow people to show off their individuality combined with a bit of mystery.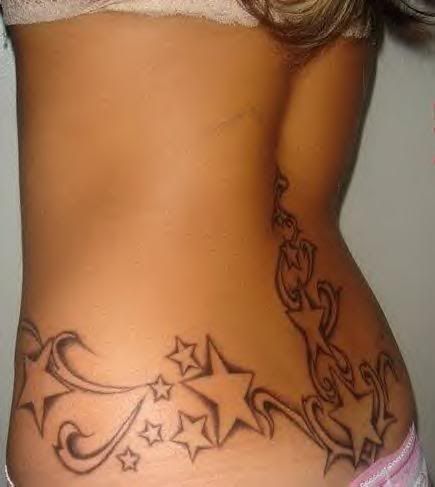 2)
Star Tattoos
Compass and nautical stars were very popular amongst sailors as they relied on stars to guide them on their journeys, so they used the tattoos as luck. The most popular places for the star designs are around the shoulder, ankles and navel.

3) Angel Tattoos

Symbol of devotion, spirituality and faith. Angels are popular because they are very symbolic, representing many values such as peace, spirituality, and protection.

4) Cross Tattoos

Strong religious symbolism. Popular as a symbol of faith, belief and hope. Crosses are popular because they can be effectively combined with other designs.

5) Wing Tattoos

Symbol of spirituality and freedom. Wings are associated with angels, representing protection and guidance from above. Some wing designs spread right across the back, which look very impressive. A popular place for women to get a wing tattoo design is on the lower back.